Things We Got done
…and some we're still doing
I am proud of the work that I have done along with my Reno City Council colleagues on a wide range of issues. I am running for reelection to continue this work, and to build on it. Here are some of the things that have gotten done, that we have been working on, and that we trying to get done in the future.
Click or tap a bullet point below to skip to the desired section.
Public Safety
Added 35 Police professionals in last 3 years

Added

30 Firefighters

in last 3 years

Spearheading effort to reduce

street racing, sideshows and intersection takeovers

with regional partnerships, use of Sheriff's RAVEN helicopter, and new proposed new legislation

Added

$11.9 million for police software and equipment

to better track and apprehend suspects

Opened all 14 Fire Stations

with full staffing

Increased number of police on patrol

on all shifts in central and south Reno 

Now constructing a new

Public Safety Center

Now designing a new

Fire Headquarters

Adopted new agreements for

Fire Mutual and Automatic Aid

to ensure rapid response

Sued Opioid Manufacturers

and Distributors to recover local funds spent on opioid crisis – (Nevada is 4th in Country in opioid addiction and loss of life)

Establishing new

mental health drop-in clinic

on state property on Galetti Way 
Managing Growth
Adopted

New Master Plan

for the City with over 7000 residents participating

Updated

Title 18 Development Regulations
Carefully evaluate all developments

: Say "YES when I can, NO when I must, and spend much time working to make projects better to reduce impacts on existing residents and the environment

Support

new and expanded road projects, with bike and walking trails

,

more public transit.
Voted to NOT approve some projects. I was not able to make the required findings for these projects, for example

:

Lakeridge Tennis Club Apartment Project (6000 Plumas)

Daybreak (Talus Valley)

The Canyons PUD

Evans Creek Ranch Annexation
Traffic and Pedestrian Safety
Championed

South Reno Road Study

with RTC to identify needed improvements

Steamboat Parkway Widening

to begin Spring 2023

Added entrance lanes

onto I-580 for smoother traffic flow

Pedestrian Safety –

Improved road safety throughout Ward 2 with pedestrian-activated crosswalks, speed bumps, four-way stops, radar speed signs, horse warning signals

Created

40-miles of new bike lanes

in City

Now evaluating Veterans Roundabout

on Geiger Grade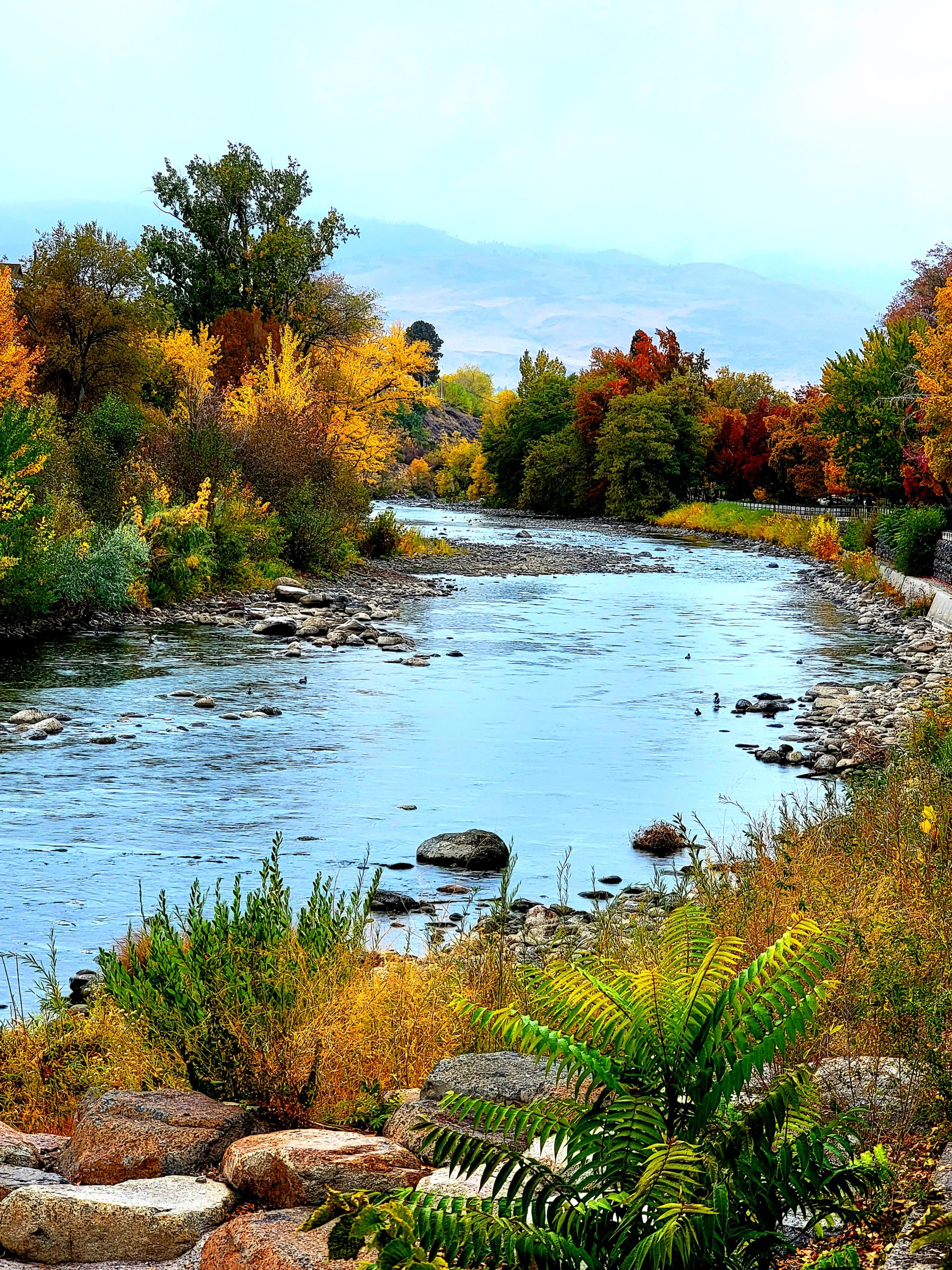 Water Management
With experience as the former Nevada State Water Planner and former Executive Director of Truckee River Flood Authority, serve on

Truckee Meadows Water Authority

,

Western Regional Water Commission

,

Truckee River Flood Management Authority and North Valleys Water Subcommittee

Championed effort to provide 4000 acre feet of treated effluent to Tahoe Reno Industrial Center (TRIC) to reduce pollution and establish an instream flow for the Truckee River, rather than dump effluent in Truckee River
Championed Stormwater Utility for Reno, now underway
With Truckee Meadows Water Authority

Initiated "One Water Nevada" to create a new source of water
Updated the Regional Water Plan 2020-2040
Completed consolidation of water systems to improve quality and reliability – Washoe County Water System and South Truckee Meadows General Improvement District (STMGID) with TMWA.
Completed installation of water meters in region.
Encouraged TMWA to become preferred water provider region-wide.
Affordable Housing and Homelessness
UNDERWAY
Met with developers to strategize ways to speed up processing of new affordable housing projects
Evaluating zoning options to increase more affordable housing 
COMPLETE
Approved 1600 units of affordable housing throughout city, most of which have broken ground or been constructed
Approved six new affordable housing projects in Ward 2 for veterans, seniors, and working families, four of which have been constructed
Developed new 600-bed homeless services CARES campus and 50 individual Tent Sites.
Approved a new Community Housing Land Trust to partner with for-profit and non-profit entities to create lower cost housing options
Built 200 very low-cost, transitional dorm-style units through a public /private partnership on city property known as the Village at Sage Street, with 100 more units now underway on property next door.
Supported 40 Tiny Homes project (Hope Springs) with Northern Nevada Hopes.
Implemented new Downtown Business Improvement District to reduce homelessness, and keep city clean and visitor friendly
Initiated the "Clean and Safe Teams" to help homeless residents obtain housing,  services and legal assistance, and meet daily needs
Parks, Trails and Open Space
UNDERWAY
Moana Pool – NOW UNDER CONSTRUCTION – Championed new geothermally-heated, solar-powered Moana Springs Aquatic Center with 3 pools including an Olympic-sized 50-meter pool with diving boards, fun and fitness pool with slides, and geothermal soaking pool; Fitness Center, Party rooms.
Virginia Range Trail – NOW IN PLANNING – Sponsoring a 10-mile long, open- space corridor 
Flat Fields – Championing for two new regional sports field areas – on Mill and McCarran (the Living River Park) and along Pembrooke Dr.
South Reno Pool – Have proposed a new pool in south Reno. Currently evaluating alternatives.
Virginia Range Wildlife Preserve – Leading effort to development of new wildlife preserve along Steamboat Creek
Truckee Living River Park – Pushing effort to create a 10-mile long park along the Truckee River linking 8 separate parks
COMPLETE
Virginia Lake Park – Led effort to completely upgrade Park, including establishing new project to re-circulate Virginia Lake water, significantly improving water clarity.  Initiated road safety program with installation of radar speed signs, speed bumps, and 4-way stops. Got parking lot paved and cracks in path repaired.  Completed path around lake. Installed new art. 
Virginia Lake Dog Park – Facilitated public-private partnership to complete Reno's first real dog park with recent upgrades.
Jack Tighe Park/Baseball Fields – Obtained funds to completely resurface large parking lot (for Babe Ruth and Continental Baseball) 
City established new City of Reno License Plate to raise funds for parks
Trail connectivity – Required installation of new connecting bike/walking path from Lakeside Drive to Delmonte Lane as part of Rancharrah Project, and other development projects
Manzanita Park – Upgraded tennis courts and play areas
Wild Horse and Road Safety
Reduced speeds on Rio Wrangler and Steamboat Pkwy to protect kids and drivers
Leading an extensive fencing project along the Virginia Range to protect drivers and keep horses safe
Installed new Horse Warning signs
Started Public Education campaign about wild horses
Repaired gates and fences

in Virginia Range

– Spearheaded effort to keep wild horses and drivers in south Reno safe, including installation of fences around developments, lowered speed limits, new signage, horse guards
Sustainability
Started Hazardous Waste and Electronic Waste Drop-off Program throughout Ward 2
Established pilot Compost Drop Off Program in Ward 2
Started ReLEAF Reno to double the trees in the city of Reno within 20 years; Obtained more than $100K in contributions and pledges for program; now working on new programs to support retention of tree canopy
Sponsor volunteer tree planting projects throughout Reno, most recent was 60 trees in Horizon View Park in Double Diamond in Ward 2 
Initiated the city-wide discounted Tree Giveaway Program
Established Pesticide Free Park Program – adopted 12 pesticide free parks in city
Established Reno as a Bee City USA
Community Solar Project – NOW UNDER CONSTRUCTION –
Now partnering with NVEnergy on first Northern Nevada Community Solar Energy Project for low-income residents located behind the Moana Fire Station –

 
Outreach, transparency and good government
My focus and priorities are guided by residents' issues and priorities.
I am an accessible advocate for residents with a GET IT DONE attitude. 
Frequent advocate for Public Workshops on significant projects such as: Steamboat Pkwy Improvements; the downtown Neon Line, Wild Horse Management; and Ward 2 development projects
Advocate to reestablish the Neighborhood Advisory Boards
Pushed for ZOOM capability and public comment for all City meetings
Council initiated first municipal lobbyist registration program
Council initiated first quarterly donation reporting program for elected officials in Nevada
Addressing blight and the city's appeal
Established

Blight Reduction Fund

to tear down aging structures, clean up properties

Passed ordinances to

eliminate new Billboards and prohibit digital billboards

altogether

Council Started Motel Improvement Program
Major Infrastructure
Now constructing Moana Springs Aquatic Center with three pools, including a 50-meter Olympic pool, hot soaking pool, children's play area, meeting rooms and full fitness center
Now Constructing new Public Safety Center
City Parking Garage – I negotiated purchase of Reno City Garage, streets & air rights from Club Cal Neva for $10; led effort to improve, clean and paint facility, repair and upgrade elevators, increase security.
Virginia Street Bridge – Completed new Virginia Street Bridge.  Project was initiated by me while at Truckee River Flood Authority
I-580 Interchange Improvements – Improved I-580 intersections at Double Diamond Parkway and Damonte Ranch Road to ease traffic congestion
CARES Campus – Constructed new Homeless center with 600 beds for those without a home.

Arlington Bridge Replacement

– Now UNDER CONSTRUCTION
Healthy City Finances
We continue to pay down our debt, which is now lower by about $240 million in since the high in 2009.
Increased Reno's credit rating to A+
Reduced employee-related liabilities by another $40 million during 2nd term by renegotiating labor contracts.
Arts & Culture
Sponsored Nevada Mural on Parking Garage
Supported establishment of new Rotary-sponsored Bi-Centennial Sculpture Park along Truckee River
Burning Man – Helped expand Burning Man footprint in Reno (BELIEVE, Playa Art Park, The Generator)
Arts and Business Awards Annual Luncheon – Collaborated with the Economic Development Authority of Western Nevada (EDAWN) to create new arts recognition program
Lear Theater – Successfully championed effort to acquire the Lear Theater
Current Boards and Commissions
Western Nevada Development District – President – 50-member, 8-County Economic Development and Building Infrastructure Organization
Washoe County Debt Management Commission – Chair
Washoe County Animal Advisory Board – Chair
Truckee Meadows Water Authority
Truckee River Flood Management Authority
Western Regional Water Commission
Economic Development Authority
North Valleys Water Subcommittee
Regional Planning Governing Board – Former Chair
Ward 2 Neighborhood Advisory Board – Liaison
Urban Forestry Commission – Liaison
Former Boards and Commissions
Community Development Block Grant Subcommittee
Artown
Arts and Culture Commission – Liaison
Finance Advisory Board – Liaison
Building Enterprise Fund Advisory Committee – Liaison